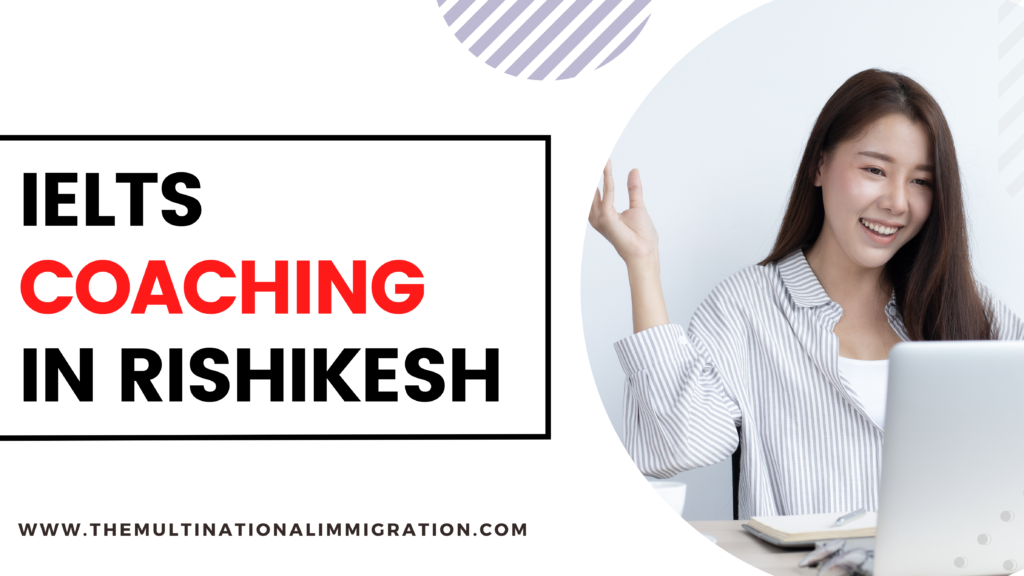 IELTS Coaching In Rishikesh
IELTS Coaching in Rishikesh: The Multinational Immigration
Prepare for the IELTS exam with confidence and assurance at Multinational Immigration IELTS institute in Rishikesh. With years of experience in study abroad consultancy and coaching, our institute offers a comprehensive IELTS coaching in Rishikesh. Our curriculum is designed to cover all the essential concepts, tips, and techniques necessary for success in the IELTS exam.
By enrolling in our coaching program, you will benefit from personalized exam guidance and unwavering support from our dedicated consultants in Rishikesh throughout the college admission process, in addition to receiving top-notch IELTS coaching. Get ready to embark on your journey towards academic excellence and a successful IELTS exam with us. Join The Multinational Immigration Best IELTS Coaching in Rishikesh and pave the way for a promising future.
The IELTS is a highly regarded examination that assesses the English language proficiency of individuals. It holds immense importance for students who wish to pursue opportunities abroad. The exam evaluates candidates in four key areas: speaking, listening, reading, and writing. Each section serves as a crucial component in gauging the candidate's language abilities and overall proficiency level.
Effective Strategies to Succeed in IELTS
Regular Practice: Dedicate sufficient time to practice all sections of the test regularly. At our IELTS Coaching in Rishikesh, we provide various practice tests to help you build familiarity and improve your skills.
Master Time Management: Practice completing tasks within the allocated time limits for each section. This will ensure that you can manage your time effectively during the actual exam.
Enhance Your Vocabulary: Work on improving your vocabulary by reading extensively, learning new words, and incorporating them into your daily conversations and writing practice.
Polish Your Grammar: Focus on grammar rules, sentence structure, and punctuation to enhance your overall language skills.
Active Listening Practice: Develop your listening skills by actively engaging with audio materials, podcasts, and lectures. This will improve your comprehension and focus during the listening section.
Read Widely: Read a diverse range of texts, such as newspapers, magazines, and academic articles, to improve your reading speed, comprehension, and ability to identify key information.
Regular Writing Practice: Practice writing essays, reports, and letters to refine your writing skills, coherence, and organization of ideas.
Seek Feedback and Learn from Mistakes: Review your practice tests, seek feedback from teachers or language experts, and identify areas for improvement.
For more details and personalized guidance, connect with our trainers at our IELTS Coaching Center in Rishikesh. We are here to support you in your journey to success in the IELTS exam.
Reasons to Choose The Multinational Immigration for IELTS Coaching in Rishikesh
Tailored Test Strategies: Our experienced instructors at Multinational Immigration IELTS Coaching in Rishikesh offer personalized strategies for each section of the IELTS test, ensuring effective preparation.
Small Batches for Personalized Attention: To maximize learning potential, we maintain small batches, allowing us to provide individualized attention to each student.
Comprehensive Assessments: Regular assessments are conducted to evaluate performance, enabling us to provide targeted guidance for improvement.
Interactive Learning Activities: Engaging activities like role play and video case studies are incorporated into our teaching approach to deepen language skill understanding.
Constructive Feedback Mechanism: Our feedback mechanism provides constructive input to students, fostering continuous improvement in their language abilities.
Supportive Learning Environment: Our dedicated faculty and management offer constant support and guidance, creating a positive and supportive learning environment.
Flexibility in Batch Timings: We understand diverse schedules and offer flexible batch timings to accommodate the needs of our students.
Regular Assignments and Mock Tests: To gauge progress and build confidence, we provide students with regular assignments and mock tests.
When it comes to IELTS coaching, The Multinational Immigration's IELTS Coaching in Rishikesh stands out for its personalized approach, interactive teaching methods, and unwavering commitment to students' success. Join us to embark on a journey towards achieving your desired IELTS scores and unlocking a world of opportunities.
Considering IELTS?
Feel free to reach out to us at ________________ to arrange a demo with our experienced faculty at our IELTS Coaching in Rishikesh.