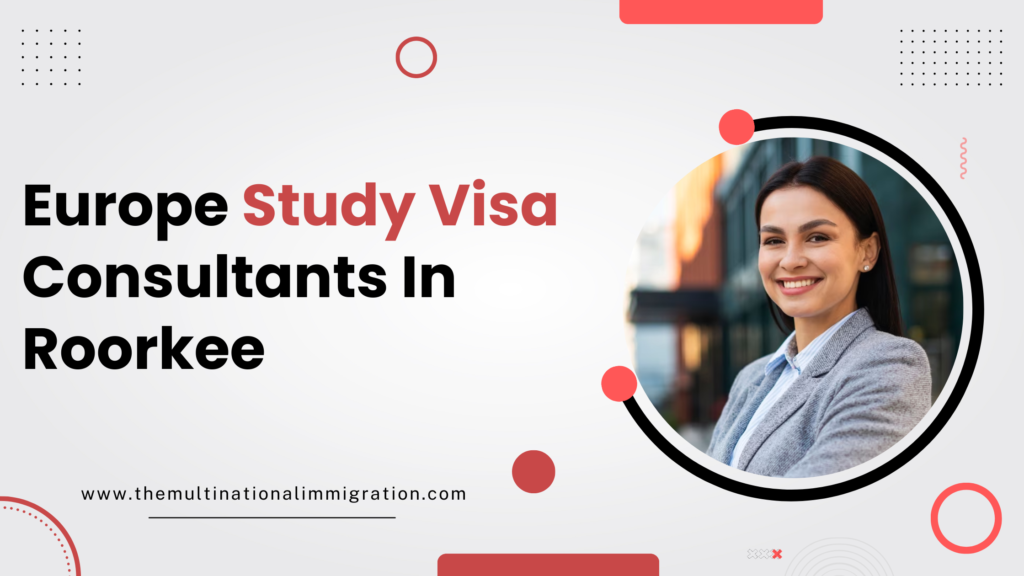 Europe Study Visa Consultants In Roorkee
Europe is a popular choice among students aspiring to study abroad for various reasons. One significant advantage is the excellent access it provides to the European job market. With a wide range of countries to choose from and the advantages of the single market, Europe offers an ideal destination for students seeking both knowledge and promising career prospects.
While embarking on the journey of studying in Europe can be exciting, the Europe visa application process can be challenging to navigate. This is where Europe Study Visa Consultants, like our team in Roorkee, can provide valuable assistance. Our dedicated Europe Study Visa Consultants In Roorkee are committed to helping aspiring students turn their dreams into reality by leveraging our extensive knowledge and expertise.
Eligibility Criteria for European Universities
Age Requirement: One must fulfill the minimum age requirement set by European universities to be eligible for studying.
Academic Performance: Attaining a minimum score of 50% on high school exams is generally necessary to meet the academic prerequisites for admission.
Entrance Exams: Certain European universities may mandate the completion of entrance exams as part of their admission process. The specific exams and their requirements differ depending on the university and the chosen study program.
English Language Proficiency: Applicants may need to submit English language proficiency test results, such as IELTS or TOEFL, as evidence of their language skills. These results are particularly important for admission to specific programs or universities.
It is important to be aware that eligibility criteria can vary among universities and countries within Europe.
Benefits of Choosing The
Multinational Immigration: Best Europe Study Visa Consultants in Roorkee
There are several compelling reasons to choose Multinational Immigration as your Europe study visa consultants in Roorkee:
Expertise and Experience: We have a team of experienced consultants who possess in-depth knowledge of the Europe study visa application process. With our expertise, we can guide you through the complexities and requirements of obtaining a study visa, increasing your chances of success.
Wide Range of Services: As the best Europe Study Visa Consultants In Roorkee, Multinational Immigration offers a comprehensive range of services to cater to your specific needs. We can assist you with visa application documentation, interview preparation, university selection, and other crucial aspects of the study abroad journey.
Updated Information: Immigration regulations and policies can change frequently. Multinational Immigration stays up to date with the latest information and developments related to study visas in Europe. This ensures that you receive accurate and current advice throughout the application process.
Personalized Guidance: Each student has unique aspirations and requirements. We provide personalized guidance tailored to your specific goals and circumstances. We take the time to understand your needs and provide customized solutions to maximize your chances of securing a study visa.
Network and Connections: The Multinational Immigration has established relationships with universities, educational institutions, and immigration authorities in Europe. This network can be advantageous in navigating the study visa process smoothly and efficiently, providing you with access to the best educational opportunities.
Support and Assistance: Applying for a study visa can be overwhelming, but we offer continuous support and assistance throughout the entire process. Our team is readily available to address your concerns, answer your queries, and provide guidance at every step, ensuring a stress-free experience.
Success Track Record: The Multinational Immigration's track record of successful study visa applications is a testament to their expertise and commitment. By choosing us as your Europe study visa consultants in Roorkee, you can benefit from their proven strategies and increase your chances of a successful visa outcome.
Overall, we offer the expertise, personalized guidance, and support necessary to navigate the study visa application process smoothly, making us a reliable choice for your Europe study visa consulting needs.
Prominent Universities in Europe
Europe is internationally recognized for its esteemed universities that consistently excel in global rankings. Here is a selection of noteworthy universities in Europe for the year 2023:
University of Oxford
University of Cambridge
University College London
Imperial College London
University of Edinburgh
University of Copenhagen
Technical University of Munich
University of Zurich
Please note that university rankings can differ based on the publication and methodology employed.
Frequently Asked Questions (FAQ's)
Is it possible to extend my study visa for Europe?
Yes, in many cases, it is possible to extend your study visa in Europe if you need to prolong your studies beyond the initially granted duration. The specific requirements and procedures for extension may vary depending on the country.
Can I travel within the Schengen Area using a study visa
Generally, having a study visa from one Schengen Area country allows you to travel within other Schengen countries for a limited period of time. However, it is important to respect the visa restrictions and abide by the duration of stay regulations imposed by each individual country.
Can I bring my family with me on a study visa?
Some European countries may allow you to bring your immediate family members, such as a spouse or dependent children, on a study visa. However, the eligibility and requirements for family reunification visas differ between countries, so it's essential to research the specific regulations of your chosen study destination.
What documents are typically required for a study visa application?
While the specific requirements vary by country, common documents include a valid passport, proof of acceptance into a recognized educational institution, financial statements demonstrating the ability to support yourself financially, health insurance coverage, and sometimes a criminal record clearance certificate.
Get in touch with us at ____________ to book a consultation session with our best Europe study Visa Consultants in Roorkee. Take a positive stride towards achieving your aspirations.