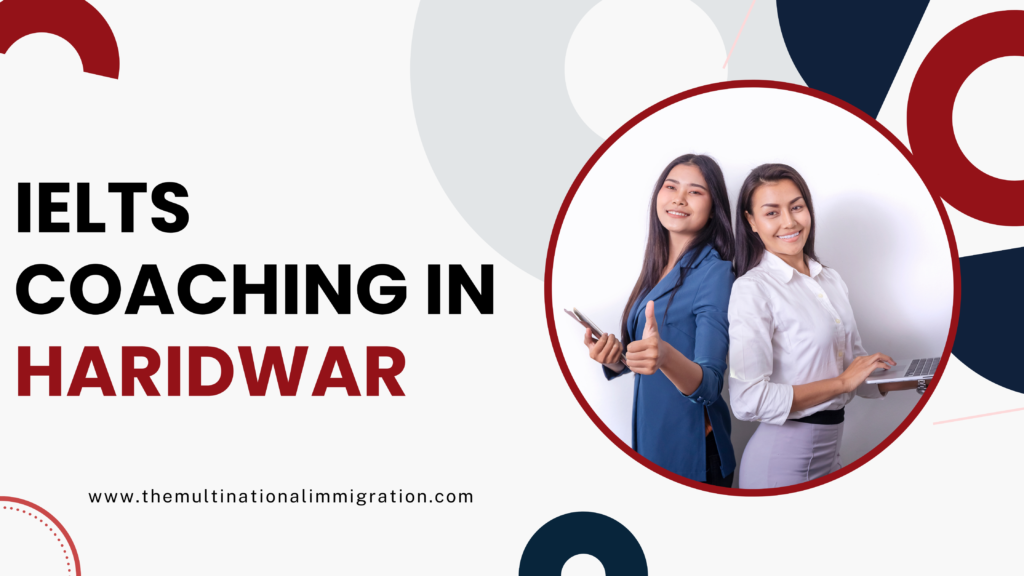 IELTS Coaching In Haridwar
When it comes to preparing for the International English Language Testing System (IELTS), Multinational Immigration IELTS Coaching in Haridwar is your reliable partner. With years of experience in study abroad consultancy and coaching, we offer comprehensive IELTS coaching in Haridwar to help students achieve scores above 7 on their first attempt.
Our IELTS coaching in Haridwar encompasses all the necessary concepts, tips, and strategies required for obtaining a high score. We cover all the essential concepts, tips, and techniques necessary for success in the IELTS exam.
The IELTS exam is divided into four main sections, each evaluating different language skills.
Listening: In this section, candidates encounter four parts with a total of 40 questions to be completed within 30 minutes. The Listening test assesses the ability to comprehend spoken English through various tasks, such as multiple-choice questions, sentence completion, and interpreting graphs.
Speaking: The Speaking test lasts approximately 11 to 14 minutes and evaluates the candidate's oral proficiency. It comprises three parts – an interview-style discussion on familiar topics, a Cue Card round where candidates speak on a given topic for a short time, and questions related to Parts 1 and 2. Our trainers at our IELTS Coaching in Haridwar help you in getting your desired bands.
Reading: The Reading section consists of three parts with 40 questions to be answered within 60 minutes. The tasks differ between the Academic and General Training versions of the exam. The Reading test assesses reading comprehension skills through tasks such as multiple-choice questions, matching information, and sentence completion.
Writing: The Writing test is allotted 60 minutes and consists of two tasks. In the Academic version, Task 1 requires interpreting and describing a graph or diagram, while Task 2 involves writing a well-structured essay on a given topic. In the General Training version, Task 1 involves writing a letter, and Task 2 requires candidates to compose a paragraph based on a specific scenario or professional context.
Tips to excel in the IELTS exam
Understand the IELTS format: Familiarize yourself with the structure of the IELTS exam, including the different sections (Listening, Reading, Writing, and Speaking), time limits, and question types.
Practice with official materials: Use official IELTS practice materials provided by the British Council, IDP, or Cambridge English to get a sense of the exam's difficulty level and types of questions.
Develop your English skills: Work on improving your language proficiency in reading, writing, listening, and speaking. Read English books, articles, and news, listen to podcasts or watch English movies, and engage in conversations with native English speakers if possible.
Take practice tests: Regularly take full-length practice tests under timed conditions to simulate the real exam experience.
Analyze your mistakes: After taking practice tests, review your answers to understand the areas where you made errors. Focus on improving those areas.
Enroll in an IELTS preparation course: Consider joining a reputable IELTS preparation course where you can receive guidance from experienced instructors and interact with other students.
Write essays and reports: Practice writing essays and reports on various topics. Focus on structuring your responses logically and expressing your ideas clearly.
Develop time management skills: The IELTS exam is time-bound, so practice managing your time effectively during the test.
Get feedback: If possible, have your essays and speaking responses reviewed by a knowledgeable English teacher or tutor. Constructive feedback can help you identify areas for improvement.
Stay organized: Keep all your notes, practice materials, and study resources in one place to stay organized during your preparation.
Frequently Asked Questions (FAQ's)
How is the Speaking test conducted?
The Speaking test is designed to assess a candidate's oral proficiency and communication skills. The test comprises three parts: a general introduction and discussion, a Cue Card topic, and a discussion on related questions. Our experienced trainers at our IELTS Coaching in Haridwar help you at every step.
What score do I need to pass the IELTS exam?
The IELTS exam does not have a pass or fail score. Instead, it uses a 9-band scoring system, with 1 being the lowest and 9 being the highest. Different institutions and organizations have specific score requirements, so it is essential to check the score needed for your intended purpose.
How long are the IELTS scores valid?
After two years after the test date, the scores expire and are no longer considered valid.
How can I prepare for the IELTS exam?
Preparation for the IELTS exam involves regular practice, using official IELTS materials, taking mock tests, and seeking guidance from experienced instructors like ours which we have in our IELTS Coaching in Haridwar.
How do I register for the IELTS exam?
To register for the IELTS exam, you can visit the official IELTS website or contact authorized test centers or our IELTS Coaching in Haridwar.